Play and Stream Without Sacrifice with the New Launch ClonerAlliance Flint 4KP Plus Capture Card
Date : January 4, 2020.
Reading time : 2 minutes.
Categories : Product news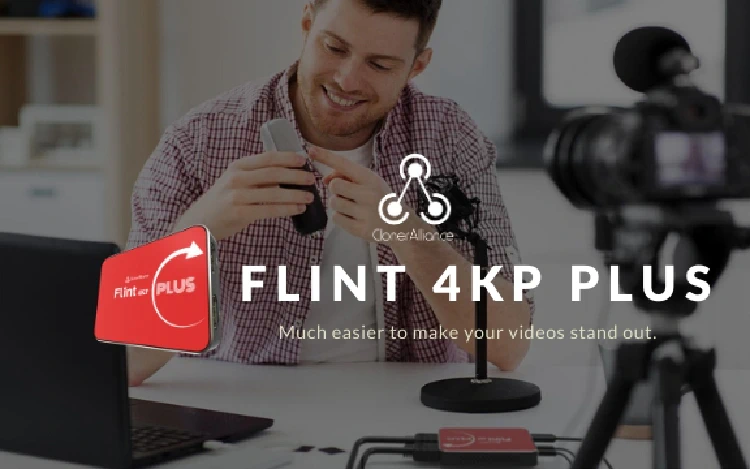 Play and Stream Without Sacrifice with the New Launch ClonerAlliance Flint 4KP Plus Capture Card
ClonerAlliance, the dedicated provider of hardware and software for video capture and recording, now announced the launch of ClonerAlliance Flint 4KP Plus, an external video capture card that lets you play console games in stunning 4K@60fps while simultaneously streaming or recording gameplay in 1080p@60fps, especially ideal for trending PS4 Pro and Xbox One X! It's quite simple to set up and stream/record with ClonerAlliance Flint 4KP Plus thanks to a high-speed USB 3.0 connection and compatibility with popular third party streaming software including OBS Studio, Streamlabs OBS and XSplit.
Building upon the popular predecessor ClonerAlliance Flint 4KP, the upgraded model ClonerAlliance Flint 4KP Plus allows 4K60 zero-lag pass-through, which enables you to live stream and record your gameplay on Windows/Mac/Linux/Android in 1080p60 quality. Thanks to ultra-low latency technology, the new comer is capable of keeping gameplay, microphone, webcam perfectly synchronized.
Connecting camcorders, DSLR with ClonerAlliance Flint 4KP Plus, it will be a brilliant way to use your camcorder or DSLR as webcam. With a Line In and Line Out port, you can add your voice to live or recorded video and output to headphones or speakers.
Availability, Warranty and Pricing
ClonerAlliance Flint 4KP Plus is available immediately from the ClonerAlliance website.
ClonerAlliance Flint 4KP Plus is backed by a two-year warranty and the ClonerAlliance customer service and technical support network.
For up-to-date pricing of all newly released ClonerAlliance products, please refer to the ClonerAlliance website or third party e-commerce platforms we used.
Web Pages
For more information on ClonerAlliance Flint 4KP Plus, please visit: https://www.cloner-alliance.com/cloneralliance-flint-4kp-plus/
Video
The launch video for ClonerAlliance Flint 4KP Plus can be found here:
About ClonerAlliance
ClonerAlliance Inc., founded in 2014, is dedicated to the development of standalone video recorders and capture cards, allowing the highest quality video to be affordable to everyone.
What products do we have? Standalone video recording products Capture and streaming products
What makes us unique? We create satisfaction. We build community. We value reputation.
ClonerAlliance PR Contacts