Introducing Next-Gen 4K@30fps and 1080p@60fps HDR Capture Card ClonerAlliance Flint 4KP Pro.
Date : January 31, 2021.
Reading time : 3 minutes.
Categories : Product news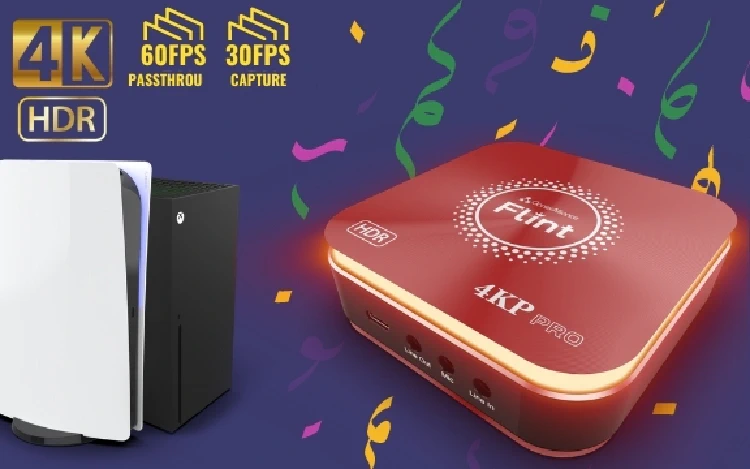 ClonerAlliance, the dedicated provider of hardware and software for video capture and recording, now announced the launch of ClonerAlliance Flint 4KP Pro, a super portable and sturdy 4K game capture device which allows you to enjoy lag-less 4K@60fps HDR video pass-through feature and capture amazing game videos at up to 4K@30fps from game consoles, webcams, DSLRs, camcorders, etc. In addition, you can capture HDR images at 1080p@60fps, retaining true-to-life shadows and reflections.
Real 4K@60fps HDR video pass-through. Experience and enjoy true 4K gaming on your monitor without sacrifice. Record and stream in 4K@30fps or 1080p60 HDR. The highest bitrate is up to 140Mbps.
With ultra-low latency technology, ClonerAlliance Flint 4KP Pro is your perfect choice to work as a real-time display solution of your PS5, Xbox Series X/S. No lag at all. Crisp, smooth and no sound issues.
ClonerAlliance Flint 4KP Pro supports 1080p60 HDR10 capture with 4K@60fps HDR10 pass-through, allowing you to immerse yourself with sharper characters, brighter worlds, and impossible details with true-to-life 4K.
High compatibility and transmission speed via USB 3.0 Type-C
Capture smooth and fluid high frame rate gameplay at up to 1080p120 for compatible games.
With its slim and exquisite industrial design, it enables you to bring it out of your room and share the gameplay and fun with your friends anywhere.
3.5mm mic jack allows you to add your own live commentary to your gameplay/video. The mic audio will get mixed with the HDMI audio automatically.
ClonerAlliance Helper is a powerful user-friendly live streaming and recording tool, to help you produce and give rise to your video creations in a minimalist way under Windows OS. MP4-Cloner is a video editing software for you to trim, combine, convert and burn your videos for Windows OS. ClonerAlliance App is an Android tool for streaming and recording HDMI video.
Availability and Pricing
ClonerAlliance Flint 4KP Pro is available from the ClonerAlliance website https://www.cloner-alliance.com/store.
ClonerAlliance Flint 4KP Pro is backed by a two-year warranty and the ClonerAlliance customer service and technical support network.
For up-to-date pricing of all newly released ClonerAlliance products, please refer to the ClonerAlliance website or third party e-commerce platforms we used.
Web Pages
For more information on ClonerAlliance Flint 4KP Pro, please visit: https://www.cloner-alliance.com/cloneralliance-flint-4kp-pro/
About ClonerAlliance
ClonerAlliance Inc., founded in 2014, is dedicated to the development of standalone video recorders and capture cards, allowing the highest quality video to be affordable to everyone.
What products do we have?
Standalone video recording products
Capture and streaming products
Video recording and live streaming software
What makes us unique?
We create satisfaction.
We build community.
We value reputation.
ClonerAlliance PR Contacts