Meet the World's First Standalone Dual 4K Overlay Game Capture Card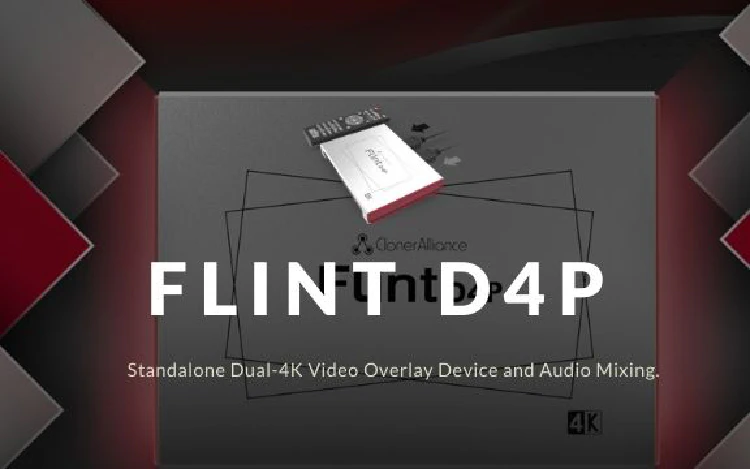 Standalone Dual-4K Video Overlay Device ClonerAlliance Flint D4P Is Launched!
ClonerAlliance, the dedicated provider of hardware and software for video capture and recording, now announced the launch of ClonerAlliance Flint D4P, a standalone dual-4K overlay device that lets you overlay both images of 4K@60fps game video and 4K@30fps webcam/DSLR. No any software required. Capture/stream 4K gameplay and 4K silhouette simultaneously as 1080p@60fps.
Equipped with a remote control, you can press one button to switch the display mode freely. Capture/Stream with Dual 4K video sources in PIP, POP or PMP modes.
With ultra low latency technology, ClonerAlliance Flint D4P is your perfect choice to work as a real-time display solution of your PS4, Xbox One or Nintendo Switch. No lag at all. Crisp, smooth and no sound issues.
Just to make things even easier for you. ClonerAlliance Flint D4P can capture and mix dual audios coming from game console and your microphone. External Audio input allows you to embed audio for silent medical video, as well as remove the sound from the source video and then add your own audio.
Together with OBS, XSplit, etc, you can record, capture and livestream your gameplay/videos at 1080p@60fps on YouTube, Twitch, and Facebook instantly, which will improve the quality of your channel tremendously.
Free bundled programs HDML-Cloner Pro Helper, MP4-Cloner and ClonerAlliance App are versatile tools for you to capture, live, trim, combine, convert and burn your videos.
Availability, Warranty and Pricing
ClonerAlliance Flint D4P is available immediately from the ClonerAlliance website.
Warm Tips: Products purchased through ClonerAlliance store are shipped from Amazon U.S Warehouse, estimated delivery within 2-3 Business Days. (For U.S, Canada Customers Only).
ClonerAlliance Flint D4P is backed by a two-year warranty and the ClonerAlliance customer service and technical support network.
For up-to-date pricing of all newly released ClonerAlliance products, please refer to the ClonerAlliance website or third party e-commerce platforms we used.
Web Pages
For more information on ClonerAlliance Flint D4P, please visit: https://www.cloner-alliance.com/cloneralliance-flint-d4p/
Video
The launch video for ClonerAlliance Flint D4P can be found at the link below:
About ClonerAlliance
ClonerAlliance Inc., founded in 2014, is dedicated to the development of standalone video recorders and capture cards, allowing the highest quality video to be affordable to everyone.
What products do we have?
Standalone video recording products
Capture and streaming products
What makes us unique?
We create satisfaction.
We build community.
We value reputation.
ClonerAlliance PR Contacts