Introducing Next-Gen 4K H.265/H.264 Video Recorder ClonerAlliance UHD Pro! Playback Instantly and Schedule Recording.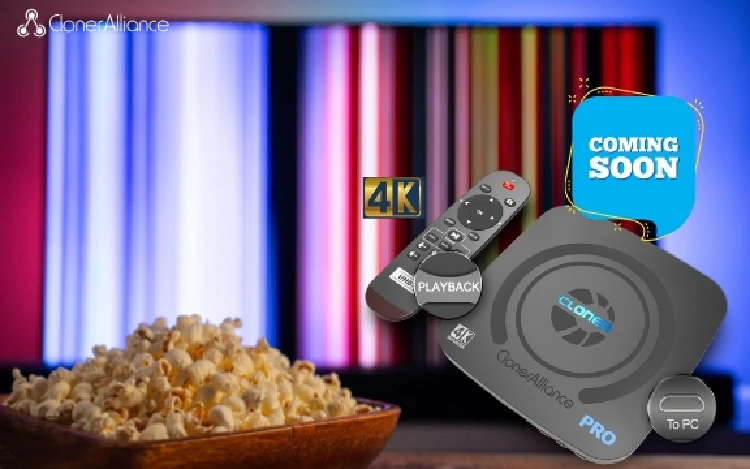 ClonerAlliance, the dedicated provider of hardware and software for video capture and recording, now announced the launch of ClonerAlliance UHD Pro, the second standalone 4K video recorder device following ClonerAlliance UHD Lite that lets you record video at up to 4K@30fps to your USB flash drive or mobile hard disk.
Equipped with a remote control, you can start/stop recording, take snapshots, play back recorded videos or captured images, and switch between H.264 encoding and H.265 encoding.
Press the "MENU" button on remote and select the schedule recording function. Use the four direction keys to turn on/off the schedule function, set the schedule mode and schedule time. You can set up to 3 schedule tasks at the same time.
Thanks to ultra-low latency technology (less than 100ms), you'll play and watch your gameplay with no lag at all with HDMI pass-through.
For PC mode, you can use the USB cable to connect to your desktop/laptop through the To PC port and live stream on Windows, Mac, Linux and Android OS with ultra-low latency.
3.5mm mic jack allows you to add your own live commentary to your gameplay/video. The mic audio will get mixed with the HDMI audio automatically.
Capture and record videos up to 4K at 30fps. If your source video is 4K at 60fps, then ClonerAlliance UHD Pro can output and record it at 1080p60.
ClonerAlliance Helper is a powerful user-friendly live streaming and recording tool, to help you produce and give rise to your video creations in a minimalist way under Windows OS. MP4-Cloner is a video editing software for you to trim, combine, convert and burn your videos for Windows OS. ClonerAlliance App is an Android tool for streaming and recording HDMI video.
Availability and Pricing
ClonerAlliance UHD Pro is available from the ClonerAlliance website https://www.cloner-alliance.com/store.
ClonerAlliance UHD Pro is backed by a two-year warranty and the ClonerAlliance customer service and technical support network.
For up-to-date pricing of all newly released ClonerAlliance products, please refer to the ClonerAlliance website or third party e-commerce platforms we used.
Web Pages
For more information on ClonerAlliance UHD Pro, please visit: https://www.cloner-alliance.com/cloneralliance-uhd-pro
About ClonerAlliance
ClonerAlliance Inc., founded in 2014, is dedicated to the development of standalone video recorders and capture cards, allowing the highest quality video to be affordable to everyone.
What products do we have?
Standalone video recording products
Capture and streaming products
Video recording and live streaming software
What makes us unique?
We create satisfaction.
We build community.
We value reputation.
ClonerAlliance PR Contacts