ClonerAlliance product categories and screening out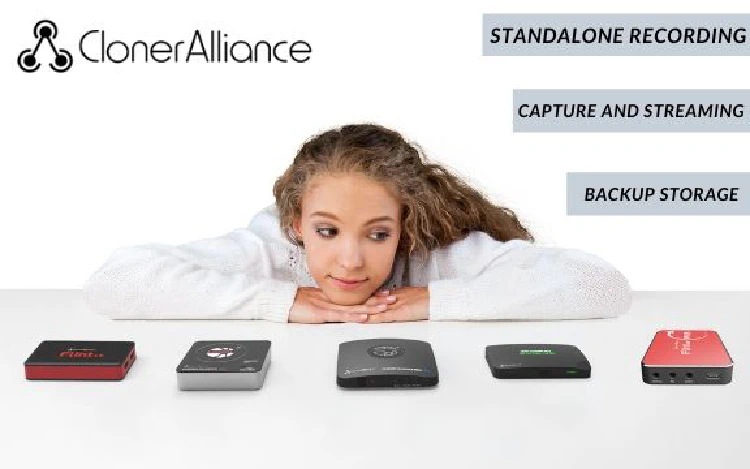 How to properly screen out a ClonerAlliance product that is most suitable for you?
After six years of development, ClonerAlliance has come up with more than a dozen products and we are still devoted to developing new ones. So how do we classify our products and how to choose wisely?
At present, our products are divided into the following categories:
Standalone Recording
ClonerAlliance Box: This is our basic model, which is capable of recording video to your USB storage device directly, with HDMI OUT for video monitoring, line in and mic in for live commentary, but cannot be connected to PC.
ClonerAlliance Box Turbo: Supports PC-free mode and PC mode. Compared with ClonerAlliance Box, ClonerAlliance Box Turbo can be connected to PC for live streaming and recording (live streaming requires the use of third-party software such as OBS, XSplit, etc.).
ClonerAlliance Box Pro: All the features of ClonerAlliance Box Turbo. In addition, you can use the remote to play recorded video, take snapshots, schedule recording, and it also supports a variety of analog signals such as VGA, AV, YPbPr.
ClonerAlliance Box Evolve: All the features of ClonerAlliance Box Turbo. But unlike ClonerAlliance Box Pro, it has two HDMI inputs for signal switching. In addition, it can be recorded not only to USB storage device, but also to TF card. It also supports CEC wake-up.
Capture and Streaming
ClonerAlliance Flint LX: Standard UVC HDMI to USB 3.0 capture card with USB Type A port. It supports HDMI pass-through and 4K input, but does not support 4K pass-through.
ClonerAlliance Flint LXT: Super portable HDMI to USB 3.0 capture card. But unlike ClonerAlliance Flint LX, there is no HDMI out, and the USB type is Micro B.
ClonerAlliance Flint 4KP: 4K@30fps pass-through is supported, with line in, mic in, line out ports. The USB type is Type C.
ClonerAlliance Flint 4KP Plus: The upgraded version of ClonerAlliance Flint 4KP, which supports 4K@60fps pass-through, especially suitable for new gaming consoles, such as PS4 Pro, Xbox One X, etc., and has the same ports as ClonerAlliance Flint 4KP.
ClonerAlliance Chert 4KC: A super portable HDMI to USB C capture card, you can play console games directly on your laptop, no TV required!
ClonerAlliance Wand: Basic model, supports recording HDMI video to PC/laptop or Android phone, live streaming with third-party software.
Backup Storage
ASUS BC-12D2HT: a powerful and energy-saving Blu-ray writer which is capable of reading from 12X BD format and writing to 16X DVD R format.
ASUS BW-16D1HT: a powerful and energy-saving Blu-ray writer which is capable of writing from 16X BD format.
Accessories
ClonerAlliance Box Pro Remote: It can be purchased independently.
ClonerAlliance Box Evolve Remote: It can be purchased independently.
DupSee Splitter 1x2: DupSee Splitter 1x2 is the perfect solution for anyone who needs to send one source of digital high definition video to two displays at the same time. Its key features include one HDMI input and two HDMI outputs with support for 4K and 3D content as well as essential audio formats.
In addition, we will soon introduce a standalone 4K H.265 video recorder (standalone recording), and a standalone dual-4K video overlay device (capture and streaming). Stay tuned! See you next week!