Introducing Our New-Launch 7-Inch LCD Standalone 1080p@60fps HDMI Video Recorder - ClonerAlliance ViewPro.
Date : May 29, 2022.
Reading time : 3 minutes.
Categories : Product news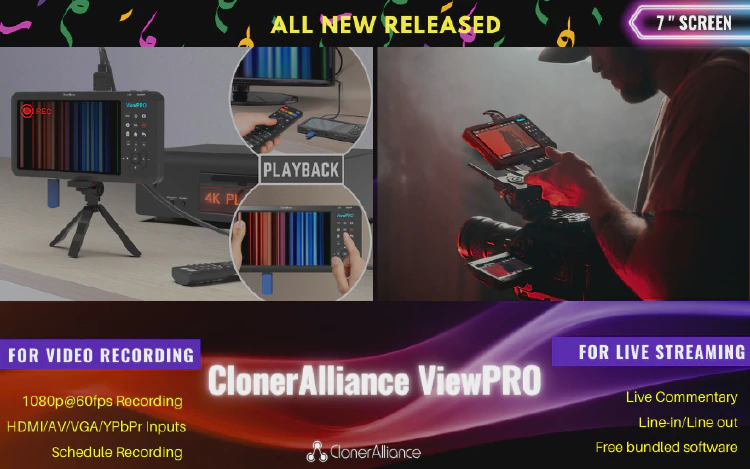 When talking about video capture devices, we usually only regard it as a tool for capturing images with HDMI IN and OUT ports, without display function. But now it is time for us to subvert this idea, and a new video capture recorder with a large 7-inch screen has been rolled out, which is ClonerAlliance ViewPro.
A Super Portable Video Recorder
Take it anywhere in your pocket when you are travelling. Don't worry about the device power, as it supports two power supply methods: 12V power adapter or external battery. Connect your external battery (not included) and it allows for a 3.5 hours (For a NP-F750 7.4V 4400mAh battery) portable fun watching videos anywhere. It allows you to playback the recorded video instantly. If you are worried about disturbing others, you can also use your headphones with it.
Standalone 1080p@60fps recording without PC.
This capture card records 1080p@60fps videos from game consoles, set-top boxes, video players, PC, DV, VCR, DSLR, surgical camera, etc to your USB flash drive, external hard drive or SD card, no need for PC. The recorded MP4 files are compatible with PC, mobile phone and any other platforms. It supports SD card (max 512G), USB stick (max 512G), external hard disk (max 8T), supports exFAT, FAT32 and NTFS format.
7" LCD Large Screen for Displaying
The super big 7" LCD and built-in speaker allow you to preview the audio & video. With the custom remote control, just press one button to start recording.
Schedule Recording
Simply schedule the recording task, set up your video source and select the target channel. ClonerAlliance ViewPro will do the rest for you. You'll never miss the latest sports events and other favorite videos.
Switch the DVI/HDMI/AV/VGA/YPBPR input freely.
Convert your old video tapes or camcorder tapes to digital format with the touch of a button. Record and digitalize video from VHS, VCRs, DVD players, DVRs, camcorders, Hi8, retro gaming systems.
Availability and Pricing
ClonerAlliance ViewPro is available from the ClonerAlliance website https://www.cloner-alliance.com/store.
ClonerAlliance ViewPro is backed by a two-year warranty and the ClonerAlliance customer service and technical support network.
For up-to-date pricing of all newly released ClonerAlliance products, please refer to the ClonerAlliance website or third party e-commerce platforms we used.
Web Pages
For more information on ClonerAlliance ViewPro, please visit: https://www.cloner-alliance.com/cloneralliance-view-pro/
Introduction Video
https://static.cloner-alliance.com/video/products/CA-997VP/ca-997vp_show_v1.0.mp4
About ClonerAlliance
ClonerAlliance Inc., founded in 2014, is dedicated to the development of standalone video recorders and capture cards, allowing the highest quality video to be affordable to everyone.
What products do we have?
Standalone video recording products
Capture and streaming products
Video recording and live streaming software
ClonerAlliance PR Contacts