New Model of ClonerAlliance Box Pro Rolled Out: Record/Live Stream Video at up to 1080p@60fps.
Date : January 27, 2022.
Reading time : 2 minutes.
Categories : Product news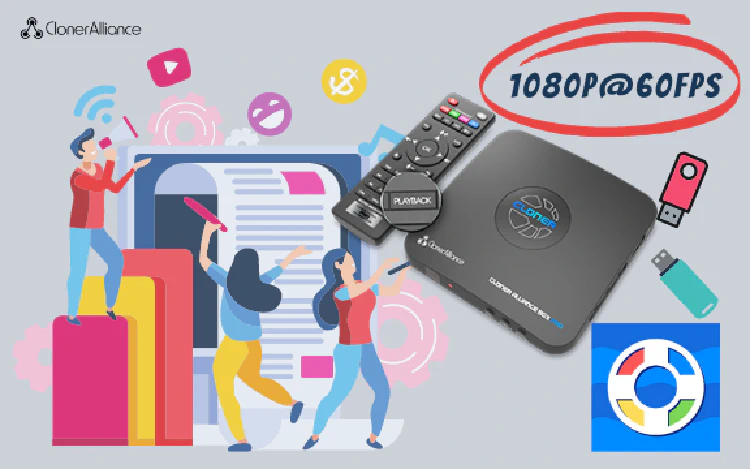 With the continuous development of video technology, the resolution of the picture has become much higher and clearer, and the space occupied is larger and larger. Unlike gaming that requires ultra-high-definition resolution and high frame rate, 1080p@60fps is actually sufficient for movie screens, due to its high-definition picture quality and relatively small capacity. Therefore, this time we launched a new model of ClonerAlliance Box Pro, which can support recording and live streaming at up to 1080p@60fps, as well as other functional upgrades. Let's dig into it now.
What are the advantages of the new model of ClonerAlliance Box Pro:
Supports standalone recording at up to 1080@60fps and save onto a USB storage device to enjoy clearer quality, especially for some fast-paced movies/videos.

Supports up to 1080p@60fps recording on PC.

Supports live streaming with the help of bundled software ClonerAlliance Helper under Windows OS.

In addition to NTFS and FAT32, it also supports exFAT format USB storage devices.

Maximum encoding rate reaches 22Mbps.
Some other features you may be interested in
Press the "PLAYBACK" button on remote and enjoy the recorded videos instantly.

HDMI/VGA/AV/YPbPr inputs. Convert analog videos to digital videos.

Schedule recording. You'll never miss out your favorite video moments from now on.
All in all, ClonerAlliance Box Pro is a full-featured video capture device. Whether you are a movie fan, gaming enthusiast, live streamer, Retro console or device user, this product is your ideal choice.
Now you can buy the new model of ClonerAlliance Box Pro at https://www.cloner-alliance.com/store/.