Stadia And ClonerAlliance Capture Devices Are Compatible.
Date : February 20, 2022.
Reading time : 2 minutes.
Categories : Tips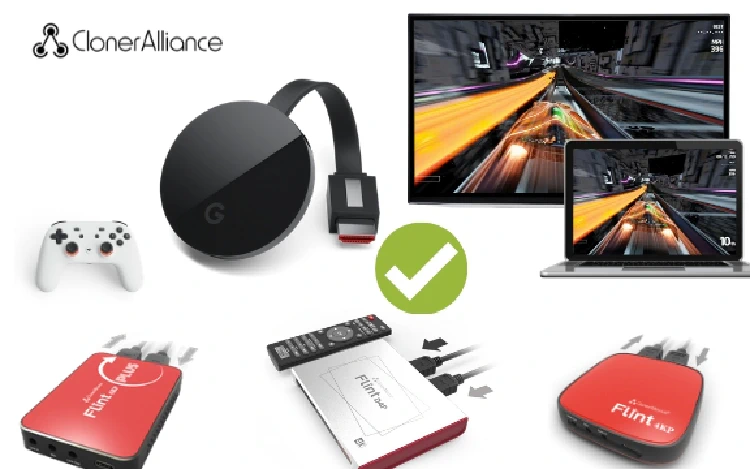 Wonderful Enough, Stadia And ClonerAlliance Capture Devices Are Compatible.
Stadia, a cloud gaming service developed and operated by Google, is capable of streaming video games up to 4K@60fps with support for HDR, to players via the company's numerous data centers across the globe, with high-speed internet connection. Stadia service is accessible through the Google Chrome web browser on PC, Samsung, OnePlus, Razer, Asus smartphones, as well as Chrome OS tablets and Chromecast for TV support.
With the most prominent "state share" feature, it allows viewers of a Stadia stream to launch a game on the service on the same save state as the streamer. You can start games without having to download new content to your personal device. The streaming technology enables Stadia players to have PIP inserts on their display of their friends' point-of-view in the game.
The base service is free but you need to purchase games, while a Pro subscription allows you to stream at up to 4K resolution, surround sound, and offers 1-5 free games a month. Both tiers allow users to play online multiplayer without any additional costs.
If you are about to dip into the Stadia game capture through Chromecast Ultra, then fortunately, you can try our following capture devices:
ClonerAlliance Flint 4KP: https://www.cloner-alliance.com/cloneralliance-flint-4kp/
ClonerAlliance Flint 4KP Plus: https://www.cloner-alliance.com/cloneralliance-flint-4kp-plus/
ClonerAlliance Flint D4P: https://www.cloner-alliance.com/cloneralliance-flint-d4p/
Shop them all: https://www.cloner-alliance.com/store/